My organic weight loss superfood smoothie promises to give you energy and nutrients while keep you feeling full.  
Making a smoothie every morning as part of a daily ritual is perhaps the best investment of your time and money. After several years of testing, HoneyColony has created a weight loss superfood smoothie packed with energy, protein, phytonutrients, and plenty of yum.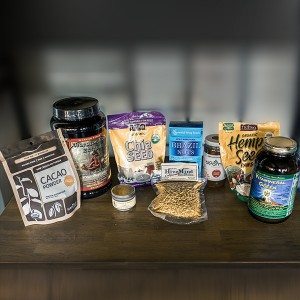 After I was diagnosed with fibromyalgia, I made it a mission to avoid gluten, wheat, and sugar. No longer able to eat many foods, I turned to the world of superfoods. Superfoods are a special category of foods found in nature. They are calorie sparse and nutrient dense, meaning they pack a lot of punch for their weight as far as goodness goes. They are superior sources of antioxidants and essential nutrients — nutrients we need but cannot make ourselves.
After speaking to raw-food aficionados and nutritionists and doing research and lots of testing, I came up with this recipe for a great-tasting weight loss superfood smoothie. Over the past seven years of eating like this I've gone from 138 pounds to 110. By doing yoga and hiking and spinning, my actual body has changed. I'm leaner – and longer, too.
My smoothie revs me up and keeps me full for hours. You realize that, when you eat raw vegan protein and real food dense with nutrition, you don't need to eat that much.
The bottom line is this: The best way to get nutrition is from food. By consuming a healthful smoothie every day you are getting most of your nutrition in sips.
ALL-IN-ONE ORGANIC WEIGHT LOSS SUPERFOOD SMOOTHIE PACKAGE
The following ingredients for HoneyColony's Weight Loss Superfood Smoothie are exclusively organic and top-notch:
Maryam Henein is an investigative journalist, professional researcher, and producer of the award-winning documentary Vanishing of the Bees.
Submit your story or essay to Buzzworthy Blogs.