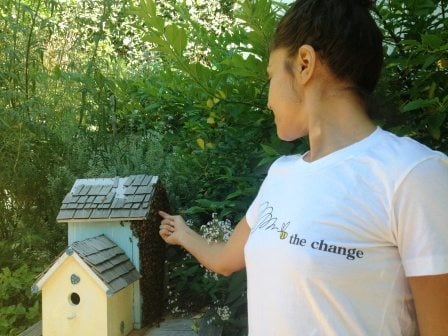 As Featured In Lucky Magazine
Bee The Change T-Shirt
Save the Bees
The directors of the film Vanishing of the Bees, narrated by Oscar-nominated actress Ellen Page, have created a Bee the Change t-shirt! Support our worker bees. This t-shirt is hand-screened on organic cotton so no bees have been harmed. The t-shirts are from American Apparel. 
Part of the proceeds from sales will be given to The Pollination Project, a non-profit organization that gives $1000 per day in grants to projects that impact environmental stewardship, animal protection, social justice, and community health and wellness.
They awarded us $1000 and we are now paying it forward! T-shirts come in men's and women's small, medium, large, x-large, xxlarge, and xxx large.  Shirts run small so we suggest going one size up and checking with sizing sheet below.
Honeybees have been dying in masses due to Colony Collapse Disorder for the past six years while chemical companies like Bayer Crop Science and Monsanto continue to place profits over bees and beings.
In the end, it is up to us to be the change we want to see in the world. During the making of the film Vanishing of the Bees, directors George Langworthy and Maryam Henein (HC Founder) consciously made a decision to empower viewers with solutions instead of focusing on the problems at hand. Today, honeybees are on the forefront of our consciousness more than ever before. And there are more and more folks keeping bees and growing gardens. Change is among us! The first step in affecting change is education. Sport our t-shirt and support a hive that is dedicated to spreading the truth about our food supply. What a Sweet Deal!
Chest: Measure under arms around the fullest part of the chest. Be sure to keep tape level across back and comfortably loose. Waist: Measure around natural waist with a measuring tape. This sizing chart is approximate. For more detailed information, please see garment specifications. Questions? Please email info@honeycolony.com or call 323.640.9710. Because this is a personal care item we can only make an exchange if you have not worn it.