Product Description
The 5 Must Have Supplements Pack are designed for our modern day and age. These five supplements work together to keep you healthy and functioning properly. This pack is especially beneficial if you suffer from an auto-immune condition or chronic fatigue. Combine these supplements with an organic real food diet. Read the full story of why these are the best supplements for your health here.  Keep in mind that you will get FOUR bottles as the salmon and D3 is combined for better synergy.
These are the Must Have  Supplements  our Founder Maryam Henein personally takes every day, after more than a decade of research into alternatives. HoneyColony advisers Dr. Jacob Teitelbaum and Dr. Alan Christianson, recommend these supplements and have experience working with auto-immune conditions. Despite having markers for Lupus and Fibromyalgia, Maryam is vibrant and healthy thanks  in part to the food and supplements she takes. At HoneyColony, we've gone to great lengths to ensure the supplements in the 5 Must Have Supplements Pack  are manufactured by companies who care about quality. 
1. Omega 3

It's incredibly effective at reducing inflammation

Helps with brain function

Essential for auto-immune conditions, if suffering from fibromyalgia or lupus, this supplement is a recommended must

DHA slows liver's production of undesirable triglycerides, making it protective against heart disease and diabete

Promotes a healthy heart

Helps you maintain blood sugar levels within the normal range

Supports healthy cholesterol levels

Normally $40.00
2. Super Vitamin D3
It affects just about every cell and tissue in your body. It enters into the nucleus of the cell and positively influences the expression of genes relating to optimal physiology, cell growth and repair, and immunity

 Many of us are deficient due to the prevalence of sunscreens
Our 5 Must Have Supplements Pack comes with Vital Choice two-in-one Wild Salmon Oil + D3  for synergy. Most vitamin D3 supplements deliver the nutrient in a base of soy or other vegetable oils high in pro-inflammatory omega-6 fatty acids. Here you get Wild Alaskan Sockeye Salmon Oil, naturally rich in omega-3s and astaxanthin (6-month supply of 180 capsules  (2000 IU). Normally $48.00
 3. Magnesium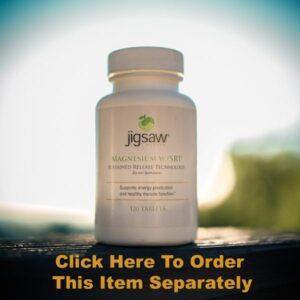 An estimated 80 percent of Americans are deficient in this important mineral thanks in part to our nutrient deficient soil

It's needed for more than 300 biochemical reactions in the body

It helps create

ATP (adenosine triphospate), fuels 

energy molecules of your body and soothes muscles, promotes hair growth, aids in p

roper formation of bones and teeth, r

elaxes of blood vessels, helps your heart 

muscle, promotes 

bowel function and deepful sleep
Magnesium is especially important for those suffering from:
Fibromyalgia 

Atrial fibrillation 

Type 2 diabetes 

Premenstrual syndrome

Cardiovascular disease 

Migraines
Our 5 Must Have  Supplements Pack with

Jigsaw's Magnesium with Sustained Time Release

to prevent diarrhea and ensure absorbability, organic form – dimagnesium malate from Albion Labs, now wiht Quatrefolic – active Vitamin B9 (Folic Acid) (one-month supply of 120 tablets) .

Normally $22.97.
4. Probiotics
W

e produce most of the feel-good hormone serotonin in our stomachs, and good gut bacteria can literally help you smile and stay healthy
Stimulates your immune system responses
Guards the health of your digestive tract
Helps you maintain balance of good bacteria for a healthy gut
It's needed in this world of processed foods and over use of antibiotics
Our 5 Must Have  Supplements Pack comes with

Arthur Andrew's Syntol

. Contains 13.6 Billion CFUs (Colony Forming Units) of various non-competing strains of probiotic bacteria. And these revolutionary capsules, made of an extra-thick layer of cellulose (the main component of veggie caps) acts like an enteric coating, making it to your gut and germinating there. Prebiotics and anti-candida ingredients also added. (90 caps one-month supply)

Normally 59.99
 5. Antioxidants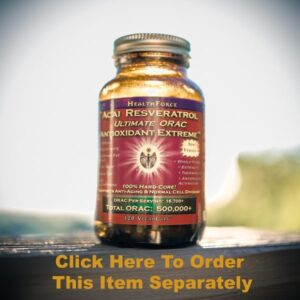 They can safely interact with free radicals, which are DNA-attacking poisons found in modern life. Once formed, these toxic compounds can start a chain reaction like dominoes. Cells may function poorly or die. Resulting oxidative stress is associated with more than 200 diseases.
Protect your DNA

Defend against dementia

Control diabetes complications

Helps with sight
Our 5 Must Have Supplements Pack comes with HealthForce Açai Resveratrol Ultimate ORAC Antioxidant Extreme because it's 100% hard-core and nutritionally supports anti-aging and normal cell division, recovery, and rejuvenation. The product goes beyond the latest research and provides a comprehensive formula with potencies, bio-availability, and ORAC heretofore untouched. Contains botanical extracts and synergistic whole foods. Also supports the liver to make even more powerful metabolic antioxidants (superoxide dismutase and gluthathione). (120 capsules one-month supply). Normally $31.21.
For A Healthier You  — Order Today!