Product Description
Sweet, zingy, and zesty, Chocolate Honey Wild Mayan Rapture is a tasty way to deliver good cheer, great flavor, and a little relaxation all in one box. This simple and elegant set includes: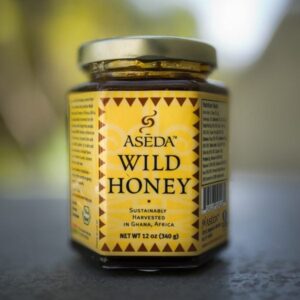 Sustainably harvested in Ghana by the Dagomba tribal people, Aseda Wild Honey is made by bees that pollinate shay trees, calabash fruits, and even some cocoa throughout their day that gives this honey a dark brown/black color and smoky flavor. It's also loaded with minerals, vitamins, antioxidants, and natural enzymes. We're guessing you've never tasted bee nectar quite like this! So watcha ghana do? We bet you ghana buy some! To read more about Aseda and their special honey, check out Honey Taste Of The Wild.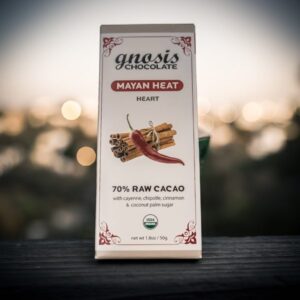 Your piping mug of cocoa isn't the only way to take your chocolate hot! If you like chocolate with a kick, the Mayan Heat Bar from Gnosis Chocolate pulls no punches (just like mother-in-laws)! Gnosis has sown spices and herbs into its raw organic cacao, and we're sure the infusion of organic cayenne and red pepper flakes that gives Mayan its heat will quicken your heart, stimulate your metabolism, and ignite your taste buds. Try it with someone you love! Read Get in the Gno to learn more about this wonderful organic cacao company.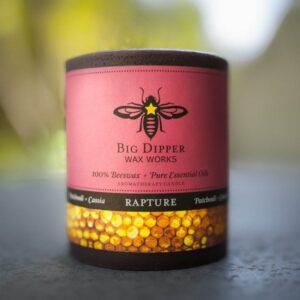 Unique honey? Check! Spicy chocolate? Check! What better way to put the metaphorical cherry on this romantic power pack than with some subtle candlelight to go with your dessert? Big Dipper offers an array of 100% pure beeswax pillar candles. Rapture is infused with patchouli and cassia essential oils, creating a stirring and exotic aroma that arouses passion and renews the spirit. This 3 X 3.5 candle also burns for a full 60 hours. Whatever will you do with all that time?
This set is packaged in a box made in the USA out of 100% recycled material. If we run out of specific chocolate, candle or honey, we will include one of equal value and quality. For instance, if we run out of Aseda, we will include a jar of raw honey by Bloom.