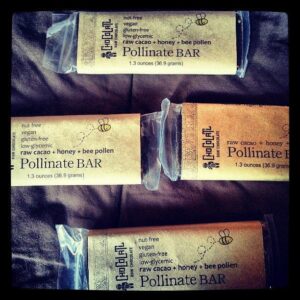 Created especially for HoneyColony and to raise awareness about the plight of the honeybee, Chocolatl has taken organic raw cacao and infused it with raw organic honey and scrumptious bee pollen. HoneyColony Pollinate Bar is nut-free, gluten-free, low-glycemic, and super super yummy.
Raw cacao is a delicious treat that heightens mental and physical well being with essential antioxidants, minerals, and uplifting brain chemicals. Cacao was never meant to be a candy bar loaded with rubbish – it is a powerful, healing, alchemical ingredient. Cacao is a very complex foodstuff with more than 300 chemically identifiable compounds. It is said to be significantly richer in antioxidant flavanols than green tea, red wine or acai, and contains protein, fats, calcium, iron, carotene, thiamine and riboflavine
Ingredients (100% organic): raw cacao, cacao butter, coconut sugar, raw local honey, bee pollen, vanilla, & Himalyan salt!
Portion of sales go toward a bee cause.
fire30