IMPORTANT REGARDING DELIVERY:
LIMITED INVENTORY ONLY IN THE FIRST PHASE, SECURE YOURS EARLY.
AVAILABLE WORLDWIDE.
Natural Doctor Basic Health Kit offers the standard set of supplementation to balance energy and bring focus to life — enough for a 60-day supply.
For the first time, these supplements are formulated based on metabolomic feedback data from blood tests of over 15,000 patients with various level of deficiencies, low energy, and chronic illness conditions. Metabolomic tests measure over 5,000 "metabolites" in the blood (the result of every single chemical reaction that keeps the human biochemistry healthy) and is the only known science that can currently identify and diagnose deficiencies and toxic overloads accurately, including the root cause of autoimmune disease.
Every metabolism is individual, but certain deficiencies are more generalized. Based on the metabolomic feedback, Dr. Dimitris Tsoukalas, world's top authority in metabolomic medicine, combined six unique and important products, each with its own essential function in the body, to give your body all the vitamins, minerals, and nutrients it needs for the day-to-day stressors of life. Even if you think you're in an ideal health state, the Natural Doctor Basic Health Kit will provide greater homeostasis throughout the body.
If you suffer from an autoimmune or other chronic illness, are looking for regular full body detox, or looking to balance the nervous system, we recommend the Natural Doctor Complete Health Kit. Six unique and essential products will bring relief to conditions that may have once inhibited your daily life.
What's In the Kit:
1. Natural Doctor Vit C Incell provides an antioxidant powerhouse, using three key sources to boost immunity, provide lasting energy, and support balance in health.
2. Natural Doctor One A Day Multivitamin is a necessity for providing your life with a daily supply of energy, antioxidants, immune support, and overall balance. With over 120 nutrients, including a Mega Food mix, One A Day is an essential blend for supporting the demands of any lifestyle. 
3. Natural Doctor Complete D3, K2 & Co Factors offer a unique balance of nutrients formulated to complement each other to promote healthy musculoskeletal functioning. The cohesive efforts of vitamin D and vitamin K help support bone health throughout the entire body.
Why We Love It:
Boosts and supports immune system function
Supports the nervous system
Increases metabolic processes designed to produce energy
Increases iron absorption
Supports the normal formation of collagen to support healthy cartilage, bone, and blood vessels
Supports healthy bones and teeth
Prevents bone diseases such as osteoporosis
Maintains normal blood calcium levels
Supports efficient utilization of calcium and phosphorus in the body
Utilizes magnesium to support normal muscle contraction, especially in the heart
Balances electrolytes and neurotransmission
Supports normal cell division
Limits gastrointestinal reactions
Supports healthy metabolism
Supports normal function of bones in blood clotting
Boosts energy to limit chances of fatigue
Protects cells from oxidative stress
Supports maintenance of normal blood glucose levels
Supports normal carbohydrate, macronutrient, fatty acids, and vitamin A metabolism
Balances normal acid-base metabolism
Supports normal metabolism
Free from artificial coloring, sweeteners, allergens of wheat, yeast, corn, soy, or milk
Products In Detail:
Natural Doctor Vit C Incell: Vitamin C Magnified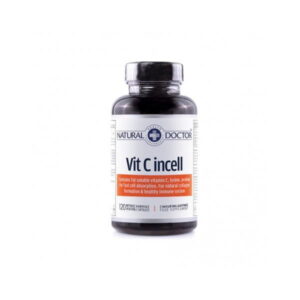 Natural Doctor Vit C Incell combines three key and potent vitamin C sources to support healthy cell metabolism, antioxidant effects, and produce all natural energy.
Vitamin C is well known for its immune boosting support. As a potent antioxidant it plays many roles in promoting health and preventing disease.  Any time you feel sick or catch a cold, the first thing that runs through most minds is to boost up on vitamin C. Although vitamin C doesn't cure colds, all of its effects on the body work to bring proper balance to health.
One of the leading causes of damage to health is the rise of oxidative stress in the body, which then leads to inflammation — a facilitator for disease and illness. When left unchecked, free radicals can overwhelm the body leading to stress, fatigue, decreased organ functioning, and increased skin and organ aging.
Vit C Incell provides vitamin C in the forms of ascorbyl palmitate, magnesium L-ascorbate, and calcium L-ascorbate. In addition it offers the select amino acids, L-proline and L-lysine to support cellular metabolism throughout the body.
Ascorbyl palmitate is a fat-soluble derivative of L-ascorbic acid, known for its high bioavailability. This allows it to be absorbed at a faster rate into cells and tissues for immediate use in combating illnesses, boosting energy, and supporting total body health.
All three vitamin C sources are buffered to increase the benefits to the body. Buffered vitamin C is gentler on the gastrointestinal lining, relieving many symptoms that come with L-ascorbic acid such as diarrhea, nausea, and an upset stomach. Buffered vitamin C can also be consumed in larger doses and has a longer lasting effect. These two benefits allow for a prolonged and enhanced boost in supporting the body's health demands and suppressing disease.
The addition of the amino acids L-proline and L-lysine, allow Vit C Incell to provide additional and essential health benefits to promote healthy living. Both amino acids work cohesively in producing the protein collagen. Collagen is essential for the growth and maintenance of arteries, veins, and connective tissue. Collagen also works to keep muscles flexible, soothe complications caused by leaky gut, boost metabolism and energy, and reduce the appearance of stretch marks. Individually L-proline works to prevent buildup in the arteries and L-lysine supports fat and glucose metabolism to decrease risk of diabetes.
Natural Doctor One A Day Multivitamin: Ultimate Multivitamin Blend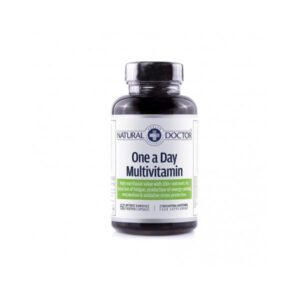 Natural Doctor One A Day Multivitamin is a supplemental blend of 120 vitamins in their pure form and selected minerals (iron, copper, manganese, selenium, chromium, and zinc), digestive enzymes, a Mega Food mix with extracts from fruits and vegetables, flavonoids, natural peptic enzymes, 75 trace elements, amino acids, inositol, and choline formulated to support nutritional and physiological health throughout the entire body.
Many multivitamins can be detrimental to health due to excessive intake and overexposure to specific vitamins and minerals. Research showed that calcium intake greater than 1400 mg a day led to increased mortality rates, while the combined intake of 30 mg beta-carotene and 25,000 IU retinyl palmitate (vitamin A) resulted in increased lung cancer and mortality. Each component in One A Day Multivitamin is carefully measured to ensure daily dosage does not lead to toxicity or detrimental side effects.
A Powerhouse of Vitamins, Minerals And So Much More
The extensive list of ingredients in One A Day Multivitamin work throughout the body, supporting critical components for optimal health and balance.
Vitamin C, vitamin B6, vitamin B12, riboflavin, niacin, pantothenic acid, folic acid, iron, and magnesium all aid in boosting energy and limiting the body's fatigue response.
Vitamin C, vitamin B6, vitamin B12, thiamine, and manganese contribute to the normal functioning of metabolic processes aimed at energy production.
Vitamin E, riboflavin, manganese, copper, selenium, and zinc help protect cells from oxidative stress.
Vitamin A and zinc contribute to normal functioning of the immune system.
Chromium contributes to the normal metabolism of macronutrients throughout the body.
Zinc contributes to normal metabolism of acids and bases, carbohydrates, macronutrients, fatty acids, and vitamin D.
Amylase is an enzyme that breaks down starch (carbohydrate) and glycogen food into simple sugars.
Lipase breaks fats into fatty acids.
Protease is capable of breaking down foods for easier and maximum absorption of nutrients and minerals.
Inositol is considered an important factor in the metabolism of fat and cholesterol, and reduces excess fat stored in the body.
Inositol combined with choline protects vessels from atherosclerosis and reduces the rate of cholesterol.
Inositol and choline are involved in a number of important biochemical and metabolic reactions of the body and support the physical and chemical demands athletes require regularly.
The proprietary mixture of select foods (Mega Food) include: wheatgrass powder, barley dust, dust from beetroot, leaf powder alfalfa, and cranberry. Wheatgrass, barley, and alfalfa leaves contain plant nutrients such as natural chlorophyll, vitamins, minerals, amino acids, and enzymes all in phytocomplex form (in the same form consumed through foods). The extensive Mega Food  mix provides ample nutritional value and boasts high antioxidant levels in the body to combat oxidative stress. 
The small quantity of lyophilized (freeze-dried) mix of sea minerals and trace elements in their natural form are provided through OmniMin. OmniMin is low in sodium and potassium, but contains a full-spectrum of natural trace elements at ideal levels necessary for normal function of biochemical and metabolic processes that keep the body running efficiently.
Natural Doctor Complete D3, K2 & Co Factors: Triple Play For Bone Health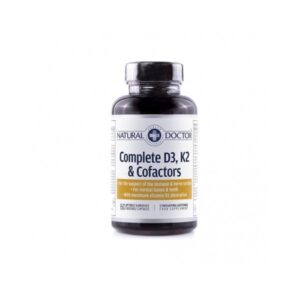 Natural Doctor Complete D3, K2 & Co Factors was formulated to support physiological function throughout the day. Vitamin D3, vitamin K2, and magnesium work to promote stronger and healthier bones, decalcify arteries and strengthen muscle function.
Vitamin D is a critical nutrient for optimizing health. Although it is best absorbed naturally through sunlight, our lifestyles, clothing, and change of seasons limit the amount we receive daily. Direct sunlight lowers blood pressure, fights depression, and supports a healthy immune system. Vitamin D supplementation is essential to make up for our inability to absorb sunlight on a regular basis.
The benefits of having steady levels of vitamin D in the body include:
Healthy bones and teeth
Stronger immune and nervous systems
Better cognitive function
Cardiovascular health
Infant's health
A decreased risk of asthma, dermatitis and eczema
Vitamin K2 is produced by bacteria and present in high quantities in the gut. Vitamin K2 goes straight to vessel walls, bones, and tissues, most is passed out stool. Producing adequate amounts requires supplementation to enjoy all of its benefits.
Having vitamin K in the body supports:
reduced inflammation.
the transportation of calcium where it needed most.
the removal of calcium from areas it is required.
helps normalize ATP in mitochondrial dysfunction.
When actively combined in the body, vitamin D3 and vitamin K2 work cohesively to limit calcification in the arteries, limiting the risk of osteoporosis and other bone diseases. Research suggests that regular vitamin D supplementation requires K2 in order to transport the calcium throughout the body properly. K2 essentially works as a modifier to balance the increase of vitamin D and ensure it is spread effectively to support bone health throughout the entire body.
Magnesium is also a key nutrient provided in this formula. It is provided as the amino acid chelate to support calcium metabolism and the synthesis of vitamin D. Magnesium supports healthy maintenance of bones, teeth, and blood clotting. Through supporting energy-yielding and boosting metabolism, magnesium increases energy, neurotransmission, normal muscle function, and cell division throughout the body.
The combined benefits of Complete D3, K2 & Co Factors offer a unique balance of nutrients, formulated to complement each other to promote healthy musculoskeletal functioning.