HoneyColony's very own Equilibrium Energy Superfood blend, offers the basics of Bee Panacea with an enhanced and superior mix of flavor and health benefits from organic and wildcrafted superfood ingredients.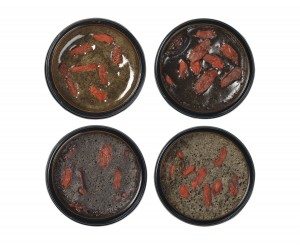 Virgin Raw Bee Panacea combines all the components of bee products (raw honey, pollen, propolis, royal jelly), as well as select algae, herbs, botanicals, and other ingredients to form one of the most nutritious and effective superfoods available.
Why We Love It
Delicious honey-based superfood formula with all  natural herbs
Organic, raw, all-natural, no preservatives, non-GMO, high ORAC Index
Free of gluten, dairy , wheat, soy, and nuts
Nourishing, well-studied mixture of beneficial raw bee products, botanical herbs, and super-foods
You only need a small teaspoon of it a day since it's super duper potent (read: how Victoria Beckham uses bee panacea!)
Virgin Raw Bee Panacea Health Benefits
Listen to the founders speak about Virgin Raw Bee Panacea:

In our quest to maximize your health in one superfood-dense teaspoon, we've cross pollinated with former Bee Panacea formulator, Gosia Reed, to create Equilibrium.
The culmination of our extensive research on different combinations of superfoods, adaptogens, and other medicinal ingredients has led us to take things to a whole new level.
Equilibrium comes in three distinct blends to fit your specific needs: Energy, Glo, and Clarity. Each one is jam-packed with the freshest and most ethically sourced bee pollen, raw honey, propolis, and royal jelly and contains nearly twice as many active adaptogenic herbs and medicinal mushrooms than the competition.
A great source of naturally occurring anti-inflammatory herbs, prebiotics, probiotics, and life-giving enzymes, Equilibrium is, simply put, the finest superfood mix on the market today.
Use coupon "equilove" for 10% off on any Equilibrium bundle or jar.